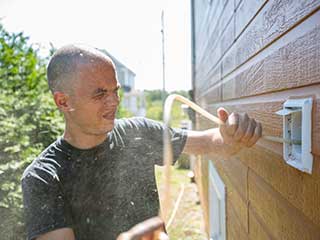 For years, our company has been offering dryer duct cleaning services of the highest quality to all customers looking to reduce their risk of an indoor fire to the lowest minimum. Our professionally trained specialists can service absolutely all types of air ducts, regardless of their size, brand or model. If you own a laundromat, you're probably well aware of the dangers a clogged dryer vent can pose. If you don't, well, then it's a good thing you're reading this now, before it's too late.
Removing Lint Buildup
If you notice signs of excessive lint build-up in your dryer duct, let us know immediately so that you can get the required solution in the fastest possible time. When it's vent is clogged, the dryer will struggle to perform its job. The signs to watch out for include higher working temperature during operation and the need to operate the appliance for longer to get the clothes perfectly dry. Making sure the dryer is routinely cleaned is not just a good preventive measure, it will also help your machine last much longer than it otherwise would have. You are also welcome to use our service as part of planned house or business maintenance on a regular basis. This will help you reduce the risks associated with excessive lint accumulation.
Thorough Inspection is Key
The first step of making sure your dryer vent is properly cleaned involves checking all of the system's components and determining how much lint and debris need to be removed. Even if there are numerous crevices along the length of the duct, we will thoroughly clean them all. It will return to its normal energy consumption and this will help you save money, as you'll spend less on your energy bill.
Repairing Dryer Issues On The Spot
It is essential for the dryer's exhaust system to be in excellent condition to ensure it's maximum safety and efficiency. That means any damage we find will be fixed with the use of advanced repair techniques and tools. The functionality of the system will be fully restored.
Contact Us Today
Don't wait until your dryer gets so clogged up it's a spark away from bursting into flames. Call our experts at Air Duct Cleaning San Ramon today to make sure your dryer vent gets thoroughly cleaned by our professional technicians.