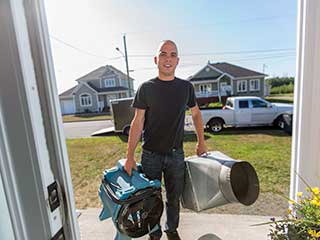 There comes a point in the lifespan of every ventilation system that it needs a good cleaning to clear it of built-up dirt and debris that, if left unchecked, could cause no end of problems for you and your home. Ductwork that is bogged down by excessive dirt can force your HVAC unit to perform poorly, forcing it to require more power to do its job, which will increase its operational wear and tear, as well as your energy bills.
Seek Professional Assistance
There are a number of risks and associated with DIY work on your air duct system. These risks could pose a serious danger to you, your home, and most certainly your ductwork. But don't just take our word for it, here are a few very good reasons why you should always have a professional technician take care of your air duct cleaning needs.
The Professional Tools
You may be familiar with the old saying 'a bad workman blames his tools'. Well, in many instances, this statement is absolutely true. However, if you are neither a workman, nor do you have the correct tools for the job, what chance do you really have of getting it done right? The process of air duct maintenance and cleaning requires very specific tools and professional skills in order to be performed thoroughly and safely, it's best left to those who've been trained to complete it.
The Dangers are Real
While it might be easy enough to reach the outer parts of your vent with household cleaning objects, getting into the nitty gritty bits deep inside your ducts certainly wouldn't be possible. Not easily, anyway. This is where dust gathers and builds up into debris and mold spores settle to start new colonies of fungus that if left unchecked will spread through your home's air systems, aggravating allergies and causing respiratory issues. Even if you were able to do get all the way inside your ductwork, the contaminants you could be breathing inside your air ducts are incredibly dangerous, far more than when they circulate through your indoor air. Here, inside your ductwork, they have no where else to go but inside your lungs. You should avoid inhaling these contaminants at all costs.
Causing Unintentional Damage
The bulk of the dirt in your system doesn't lie on its outskirts, but is often found deep inside the ducts where only a specialist can reach. Even if you were able to reach them, due to your lack of skill and experience in this subject, you could further damage your air ducts without meaning to, which will lead to more air leaking out, more contaminants seeping through, and more expensive repairs. The best way to save money is to have professionals take care of it for you.
Call us Today
If you're in need of professional assistance, there's no one better to call than our experts at Air Duct Cleaning San Ramon. We'll get it done quickly and safely.