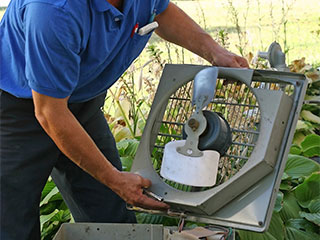 Are any members of your household suffering from breathing difficulties? Is a family member's asthma or allergies being particularly troublesome? Even healthy individuals can find themselves experiencing headaches, nausea, and other flu-like symptoms. It's easy to overlook the importance of HVAC unit cleaning. Your system is working so it must be okay, right? The answer to this is no, and here's why. If your heating and air-conditioning system is clogged up with dirt and debris, then the detrimental effect on your health can creep up on you without you knowing.
Dishing The Dirt
A dirty HVAC unit takes its toll on your equipment and over time this can shorten its lifespan. Components wear out prematurely, and the entire unit may even break down as it strains to work harder to produce and maintain the required temperature. The bottom line is, not only can you can find yourself with an unhealthy atmosphere inside your home, but you'll also be paying through the nose as your clogged and inefficient HVAC unit causes you to consume more energy!
Why Does It Get So Dirty?
Your property's HVAC unit is situated outside. It works by pulling air in to use for air conditioning. Due to its location it can also draw in a number of unwanted materials. These include debris, insects and other substances which can then become trapped inside the system. In addition to this, air pollutants and chemicals can also be drawn in, contaminating the air as it circulates, which is why it's vitally important that periodic HVAC unit cleaning takes places.
Fast And Efficient
We know you run to a tight schedule and so when needed, one of our professionally equipped experts will be with you quickly and ready to go. Our team will be in and out before you know it and your HVAC system will be as good as new both inside and out.
Contact The Professionals Today
Schedule your appointment with the professionals at Air Duct Cleaning San Ramon now. You're just one call away from a fully functioning HVAC unit.